Your platform for your crowd.
Make Giving Happen lets you host your own, completely branded crowdfunding platform so you can take control of your messaging and give your audience every reason to get behind your projects.
How will you make giving happen?
You've got a crowd… and they want to help you raise funds. Use the power of microgiving and expand your fundraising activities.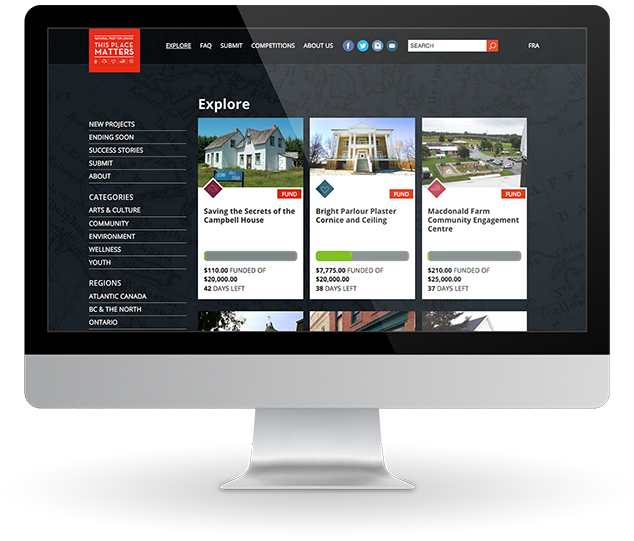 Make Giving Happen helped the National Trust for Canada ignite interest in preserving Canada's national history.
Associations & NGO's
Work with your members to crowdfund new projects, or build growth through the community.
Cultural Institutions
Explore new ways to get your audiences involved in your work: use microgiving to fund projects and exhibitions.
Universities
Give your students and faculty the power to raise funds for their projects, department, or the school.
Crowdfunding tailored to your brand and business model
All of the great features you would expect in crowdfunding, enhanced with your vision.
Make giving happen your way.
Choose quick and easy deployment or go further with expanded features.
Go Simple
Quick to start. Easy to implement.
Email system, donation ladders, donor walls and your choice of three payment gateways. All that and the support that you need.
Go Plus
More options for more giving.
All the functionality of Go Simple, plus competitions, milestones, funding trees, memorial funds and multiple languages.
Also...
You don't have to go it alone. Our team is here to help with digital marketing, training, and support.
When it comes to features, we give, give, give.
You decide how your crowdfunding projects are deployed, marketed, and managed.
Your platform in your style.
Insert a logo or go deep into colour, type and layout: Make Giving Happen is built to be customized for your brand's visual style while staying tuned to modern web standards. On the back-end, you'll find media-rich content management with tools for SEO and social. And to help your project owners keep the funds coming in, we'll provide you with a branded Project Success Kit with everything they need to know.
Keep your workflow.
Built with multiple payment gateways, email platforms, export tools and easy campaign control, Make Giving Happen comes configured so you can start working in no time. But if you need something special for your workflow — if the platform doesn't align to your payment gateway, email marketing, or accounting needs — we'll tailor the system so you can get to work without deploying a change management team.
Total project control.
We've built a project intake approach that ensures you and your participants spend less time sorting through requirements and more time fundraising. Plus, you'll never be beholden to a prefab project structure: categorize and sort projects according to your own configuration, and let your crowd tell their story their own way while you maintain control over messaging.
Raise. More. Funds.
With Make Giving Happen, we've built a platform that isn't simply about microgiving and donation ladders: run project competitions, or drive more traditional campaigns like planned giving, memorial funds, matching funds, and capital campaigns. We've also designed a 'funding tree' that allows you or your donors to direct donations outside of a project — to any program, faculty, or the institution itself.
Who uses Make Giving Happen?
(Some of the finest organizations we've known. That's who.)